Tirtha Bridal Unveils Innovative Water Wedding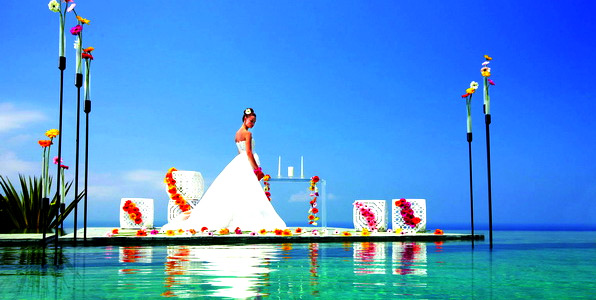 Tirtha Bridal is excited to unveil its most creative wedding yet. The new water wedding is innovative and incredible. What an experience for the bride, groom, and guests. This is the ultimate in perfect fantasy weddings. Couples will exchange vows on a the natural green stone altar that has been built specifically for weddings, which has then been set on an infinity pool, that is perched atop a Bali cliff.
The alter floats perfectly in line with the horizon so your backdrop is the spectacular Indian Ocean merging with the brilliant skies. This water wedding truly does offer the most surreal wedding experience ever. There are certainly a number of ways to tie the knot in Bali but this tops most.
For more information about the Water Wedding Tirtha Bridal is offering you can contact them at Jalan Uluwatu, Br. Dinas Karang Boma, Pecatu, reach them by phone at (0361) 847-1151, or visit their website.
To add the finishing touches to your wedding consider a Bali villa – not only as the perfect place for your honeymoon, it's the perfect place to have your wedding reception. There are numerous choices in Bali villas to meet your needs and your pocket book.
If a water wedding isn't your idea of the perfect wedding, not to worry, because Bali is well known for the variety of memorable wedding settings and themes it offers – there is certainly one that is just what you envisioned. You might even decide to have your service right at your Bali villa – that's a popular choice for many, after all everything you want is right there – beautiful gardens, ocean views, private swimming pools, personal chefs and staff, and so much more.


There is nothing quite like a Bali wedding to start your life together – It is no surprise that Bali is one of the number one wedding destinations.