Bali Promotes Water Sports for Tourists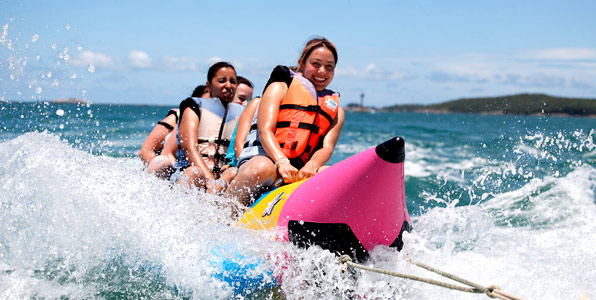 Bali has plenty to see and do – so much that in just one visit you are not likely to be able to enjoy all of it. But one of the things Bali has been promoting is the water sports it has to offer tourists, and they are numerous. Let's look at some of the recommendations.
Fishing
Fishing activity is huge on the island of Bali. There are numerous charters such as Xplore Charters Sportfishing Adventures, and Yos Marine Adventures. Your charter may fish for Wahoo, Spanish mackerel, Mahi Mahi, and tuna.
River Kayaking
Bali Adventure Tours offers river kayaking. Challenge yourself, experience a solo kayak on the Ayung River in a two person inflatable kayak – experience the thrill.
River Rafting
There are tons of companies that offer river rafting including A True Balinese Experience, Bali Adventure Tours, Bali Rafting, Mega Rafting, and Club Aqua to name just a few. The trip lengths vary depending on where the rafting occurs. The Ayung River is a popular river and rafting often lasts around four hours. This is a thrill of a lifetime. There are different rapid classes so if you are experienced there's definitely a rafting experience for you and if you are a new rafter there is an experience for you too.
Surfing
Surfing is very popular on Bali. If you are staying at a Bali villa you may even be able to surf right outside your door, depending on where your villa is. There are a number of surfing schools including Big Kahuna Surf School, DEKOM Surf School, Pro Surf, and Rip Curl School of Surf – these schools offer different levels of training, so even if you have never surfed before you can learn how to surf in no time at all.
Bali offers numerous water sports, so if you love the water you are not going to be disappointed! Come explore and create some memories.