Bali Predicts Foreign Tourists to Reach More Than 3 Million in 2013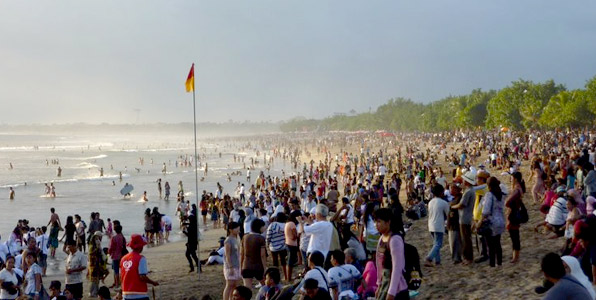 The Jakarta Post report that predictions are for Bali to see more than 3 million foreign tourists in 2013, thanks to improvements to the islands infrastructure, which has lead to increased interest in travelling to Bali.
A toll road is being constructed that connects Benoa – Ngurah Rai Airport – Nusa Dua. A traffic underpass is being constructed at Simpang Siur, and the Bali airport is getting an extensive renovation.
The Bali Chief of Provincial Tourism, Ida Bagus Subhisku, projects there will be a 10% increase in foreign arrivals in 2013. During 2012, there were 2.8 million foreign tourists that arrived in Bali. The 2013 foreign tourist arrivals are going to also be strengthened because of several important meetings that scheduled to be held in Bali during 2013. This includes the APEC Summit of Asia-Pacific leaders.
The growing conference and exhibition sector (MICE) and meetings is important, but Bali is also focused on developing agriculture, water, retirement, and spiritual tourism. These are exciting growth sectors for Bali.
Bagus Ngurah Wijaya, the Indonesia Tourism Association (GIPI) chairman, does not believe tourism growth will be in excess of 10% in 2013.
"We haven't set a high target because there are still a lot of things that need to be improved," Wijaya admitted.
With improvements to tourism come more accommodation options as well. While hotels are popping up around Bali, one of the forms of accommodation that most interest foreign tourists is the luxury villas for rent that are available in different areas of Bali and offer a unique vacation experience. In addition, tourists are able to find a villa that fits their budgets and their needs. For example, while some travellers may want to be in the heart of the Bali nightlife, others may be looking to get away from it all. What villas are offering foreign travellers that hotels cannot is the ultimate experience in privacy and luxury. There's no sharing the swimming pool, it's yours. There's no having to dine at restaurants because you have your own chef. These are things that foreign travellers are finding very enticing.
As Bali continues to make positive improvements to draw tourists the numbers are certain to keep climbing.