Japanese Woman Spend Big on Bali Gigolos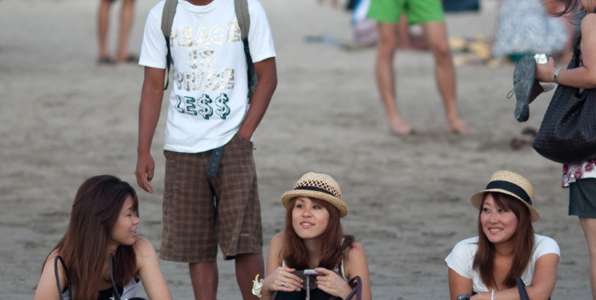 You might be surprised to discover that Japanese magazine is reporting that Japanese women are heading to Bali because they like what they see – Gigolos – yes that's right. Bali beach boys are serving Japanese women and making a very comfortable living making love to them.
For one-time encounter, Japanese women are spending 584k Rupiah or about 5.000 Yen. It does go as cheap as 233k Rupiah or 2.000 yen and as high as 1.1 million Rupiah or 10.000 yen for a full day, which is one of the most popular services offered.
As a tourist destination, Bali has become a very popular getaway. For years, this little gem was a well kept secret, but not anymore. It's not only become a popular getaway for couples, it's becoming increasingly popular as a getaway for sexy encounters and the massage industry is the gateway into finding the adventure you want.
It's quite common for the Japanese woman to ask the beach boy to do a very exotic massage from top to bottom. Then at some point during that massage, the woman asks how much it's going to cost to for the 'full' service.
You might be surprised to discover that there are more than 200 gigolos working in Bali that are known and likely many more that no one is aware of. Many of these gigolos actually take the time to get special training on how to satisfy a woman. According to one magazine report they are even trained with techniques for licking a woman's body, including the female organs to ensure the client is highly aroused prior to the real fun.
These gigolos really are looking for repeat business and with the disposable income of these Japanese women on the rise the demand is likely to continue to grow, especially as the practice becomes more open and awareness increases.
It was back in 2005, that Japanese women who were stressed from working too hard in Japanese stores and having fun rarely or not at all, found their relief in Bali where they would come and hire the boys. It was considered embarrassing and taboo so it was seldom talked about until just recently where there is a much more open dialogue about the practice.
Bali beach boys are just one sexual adventure in Bali. It's not just Japanese women who can have some fun with the beach boys, women from all around the world can enjoy this experience if that's the vacation they are looking for.