Kuta Cowboys a Hit With Female Sex Tourists in Bali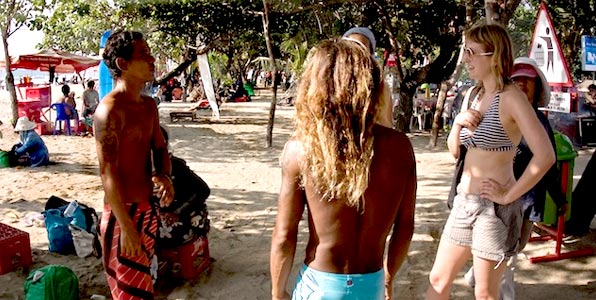 It's a well-known fact that Bali is a popular vacation destination, but what many don't know is that it is one of the most desired vacation destinations for female sex tourists, thanks to the Kuta cowboys. Each year thousands of women make their way to Bali looking for paradise. And what many find are the open arms of the Kuta cowboys. In fact, these muscular, bronzed beach bodies have made Bali the world's leading vacation destination for female sex tourists.
According to "Cowboys in Paradise" Bali is the hottest destination for those women looking for a little holiday romance. Now you might think that these guys are just your typical gigolos, but they claim to be much more than this. How one would find out the difference will have to be left to the imaginations of the female sex tourists, who may not even care.
While this colourful tourist market isn't talked about much, at least not openly, the reality is that it is a huge economic boost for Bali, and for adult women looking for a sex vacation this is absolutely the place to go. Book one of the many luxurious and spacious villas where you can enjoy your own private parties, entertain who you want when you want, or take advantage of your own cook who can make you decadent meals to enjoy in your villa, while enjoying breathtaking views that mother nature has to offer – and of course the occasional great view from inside is welcomed as well.
Villas are available throughout Bali including Seminyak, Ubud, Legian, Sanur and much more. If you are looking for a romantic getaway, no strings attached, it appears Bali is the place you want to go – Cowboys in Paradise await you.