Snowing in Bali Drug Trafficking In Bali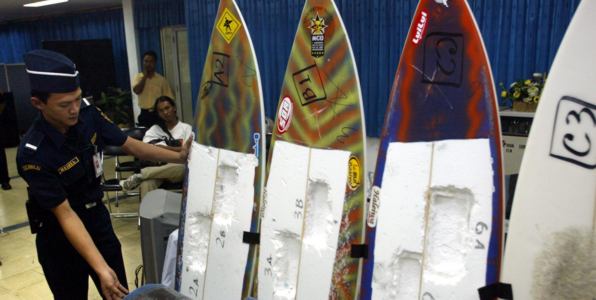 It's snowing in Bali. What? Snowing? Never! Actually, when we are taking about snowing in Bali this is the code that is used by drug dealers when a very large cocaine shipment has landed in Bali. For the men who are in charge of Bali's drug empires, it means it's time for them to get rich.
This practice dates back to the 1980s, when smuggling cocaine to Bali entailed the use of South American surfers. This was certainly big business! The drug trafficker's methods were alternated depending on what was being scrutinized by the authorities. A surfboard shaper would be paid $5,000 to embed the cocaine into the surfboard and then the surfer would travel to Bali with his/her board.
This method remained popular until the mid 1990's when Frank de Castro Diaz, a South American surfer was arrested at Denpasar Airport in Bali with 4.3 kilos of cocaine hidden in his surfboards. The publicity around the case lead to a temporary halt in moving drugs this way.
However, that was short lived and before long, the cocaine was once again moving from South America to Asia using sports equipment, windsurfing equipment, surfboard bags and a blend of tourists. There's no shortage of surfers that were willing to be a runner. That's because it's a lucrative business. The cost of the cocaine goes up with every border that it crosses.
For example, in Bolivia it costs $1,000/kilogram. Once it crosses into Brazil it costs $5,000/kilogram and by the time it reaches Bali it escalates up to $90,000/kilogram depending on how much it's snowing or in other words depending on how much cocaine is already on the island.
The drug business is directly tied to Bali gangs, but reading reports may surprise you to discover that many of the local law enforcement are as corrupt as the Bali gangs. In fact, they are likely to extort the gang members and drug dealers in exchange for looking the other way and letting the drugs move freely throughout the country.
Today's drug trafficker will use every opportunity that presents itself to move drugs into the country. After all, with such a lucrative business it is worth the risks associated with moving drugs.
Today it remains a lucrative business and runners are just as easy to find and take the risk associated with that lifestyle. A sure fire trap for young players. The big question is always whether it is 'snowing in Bali' today.