Pura Tirta Empul Sacred Bali Destination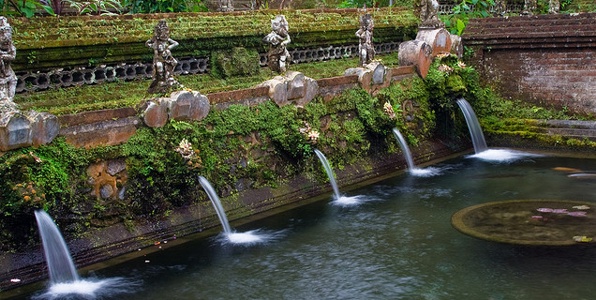 Balinese worshipers have been coming to Pura Tirta Empul for thousands of years. It is said that Indra created this sacred spring along with its curative properties. The tradition carries on today. The only exception is that today tourists and locals alike visit Pura Tirta Empul.
On the temple you will find the inscription date of 926 AD as the founding date. Since then the Balinese people have come here to bathe in these sacred water and to enjoy the spiritual and healing benefits. While on vacation you should make sure that you come experience Pura Tirta Empul for yourself.
The Tirta Empul Temple has the traditional Balinese split gate as well as shrines to Braham, Indra, Mt. Batur, and Vishnu. The large open pavilion is found in the main courtyard and is a great place to relax in the shade.
However, the real attraction here is the carved stone pool that is filled with koi and fed from the sacred spring by twelve fountains. Worshippers begin by making an offering at the temple. They then climb to the main pool where they will bathe and pray. Some collect the holy water into bottles that they will take home.
Pura Tirta Empul is in the village of Tampak Siring, which can be reached by public transport from Ubud. If you are enjoying your stay at an Ubud villas then you likely have a car and driver available to you, and they can bring you here. This is a wonderful place to spend some quality time. It offers a unique and memorable experience that you'll take home with you. Experience the power of the pools yourself and you'll understand what the locals are talking about. Bali has so much to see and do when on vacation, but this should certainly be at the top of your list!