Kiane Sabet – Amokrane Dead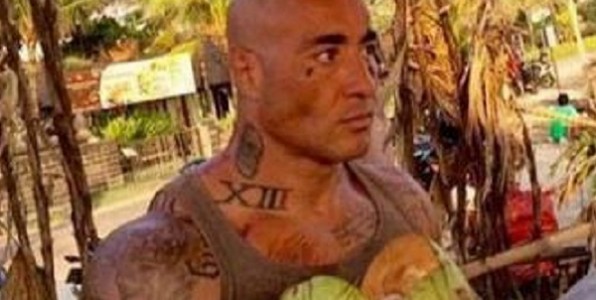 Canggu Bali resident and French national Kiane Sabet aka 'Amokrane' was shot by police after attacking and fatally stabbing one of the police officers from the North Kuta Police force, identified as Anak Agung Putu Sudi.
On Facebook a post from someone who says 'I lived in the same region as this guy – Canggu Bali for a couple of years. Complete nut case. Many people I know had scary confrontations with him in the last couple of years. Banned from most of the gyms in Bali".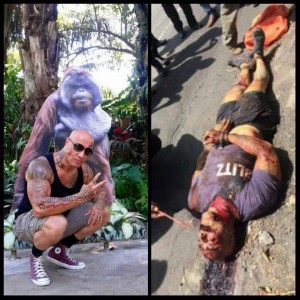 He also went on to say, "I read a book by Kate Kray (ex-wife of prolific London gangster Ronnie Kray) a couple of years ago called "Ultimate Hard Bastards – The truth about the toughest men in the World" that he was featured in under his real name Kiane Sabet – along with the likes of ex-IRA soldier Johnny Adair, Britain's most notorious high security prisoner Charles Bronson, Albert Reading and one of the UK's most violent members of the underworld, Roy 'Pretty Boy' Shaw."
"In the book he comes off as being a pretty normal type of guy – not crazy – but every time I ran into him in the last few years he was yelling absolutely crazy shit and kept repeating that he was Jesus Christ" – then commented "not sure what happened in between – but I also read that the police in London had petitioned to have him banned from all licensed premises due to the violence at several venues where he was in charge of security. I have read lots of posts on FB in Bali community groups today & yesterday where bleeding hearts are saying he was harmless. Pig's ass he was. Any sympathy should be kept for the poor copper & his family".
Kiane was asked in the above book, 'where do you see yourself in 5 years' to which Sabet stated '…hopefully in 5 years I will be doing something in TV or a movie, maybe a martial arts movie.." In 2009 he played a gangster named 'K' in a movie named 'K The Movie' which was produced by London Pictures and directed by Don Allen and is described as "K fights his way up through the ranks of organised crime, his every move dogged by a mysterious and powerful opponent who'll stop at nothing to find K".
Unfortunately for Kiane Sabet aka 'Amokrane', his most watched movie were on YouTube of his final moments – knife in hand – challenging the police to shoot him, and then afterwards lying dead on the side of the road.
RIP Anak Agung Putu Sudi.