Deus 9ft & Single 2016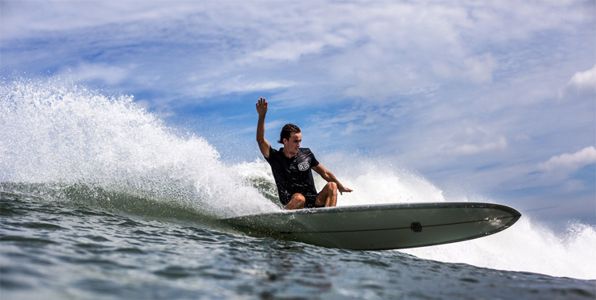 Harrison Roach won the Deus 9ft and Single 2016 event with a spectacular longboarding display on perfect Canggu right handers – with a cleared lineup.
The Deus 9ft & Single event gathers longboarders from everywhere joined together by local Bali surfers and Deus disciples. Men, women, shapers, hipsters and outsiders – are all there to have fun.
The Board criteria for the event is a 'Log' ie: traditional style – no performance boards and minimum length is nine-foot with a minimum weight of 5.5 kg. Single fins only. No side fins (in or out). No leashes.
The event is all about the celebration of traditional logging, interpreted by the contestants on hand. It's about Style, Power, Grace and Footwork. It's also about creativity, inspiration and enthusiasm.
Judges were looking for the ultimate logging formula and the final had Harrison Roach, Josh Constable, Jye Byrnes, and Jared Mell. Harrison Roach delivered fin-first takeoffs, beautiful nose riding, grab-rail carves, critical wave positioning, stylish cross stepping, and some nice clean barrels.
Winners
9ft & Single: Harrison Roach
Under 9ft & Single: Harrison Roach
Ladies: Honolua Blomfield
On both days, conditions were magnificent with classic river mouth perfection faces that allowed sweeping cutbacks and hollow barrel rides.
Deus 9ft & Single Video from Surfstitch