Have Fun in Nusa Lembongan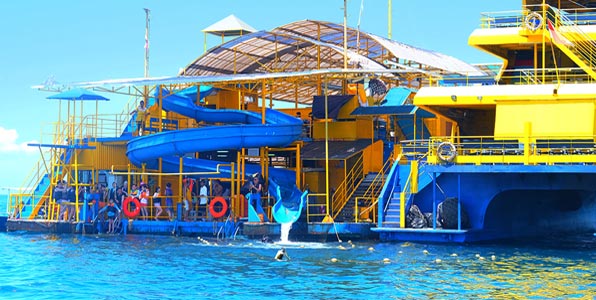 Want to see some spectacular views from the water? After you've found your Bali Villas accommodation and unpacked, going on a cruise will be the ideal activity to introduce you to the wonderful world of Bali, especially if you have never been before. When working out where to go and what to see before you even leave Australia, consider booking a cruise or two in between more vigorous activity. This gives you time to rest up without wasting a single minute of your holiday. Here are just two of the cruises available in Bali – there are many more.
Lembongan Beach Club Day Cruise
A family ticket includes 2 adults and up to 3 children, but they must be between the ages of 4-14. A luxury catamaran will take you to Nusa Lembongan where you will transfer to Mushroom Bay and the peaceful tropical island where the private Beach Club is. You can relax on hammocks in the gardens, or if that sounds a bit boring, why not go snorkelling, kayaking, parasailing or scuba diving to mention just a few of the activities available. A fully supervised kids club will allow parents to rest, or enjoy themselves while knowing that their children are in good hands and having lots of fun.
Morning tea, lunch and afternoon tea are included, as are banana boat rides, sea kayaks, snorkelling equipment, beach and pool games, a locker to store your stuff and a semi submersible coral viewer. If you feel like a massage, that is extra. Tours leave daily except for 2 public holidays, but you have to book at least 24 hours ahead.
Lembongan Reef Day Cruise
With similar aspects to the Beach Club Day cruise, the Lembongan Reef Day Cruise leaves from Benoa Harbour daily and moors beside a special pontoon that is packed full of activities from snorkelling to a submersible coral viewing ride. A favourite with  the children will be the 35m waterslide on Lembongan Island. For even more adventure you can do the optional scuba diving for beginners or the Aquanauts submerged marine walk.
The family ticket includes 2 adults and up to 3 children between 4 and 14. It includes unlimited banana boat rides, a walk through Lembongan village, buffet lunch plus morning and afternoon tea and a locker for your swimmers, towel and anything else you might not want to carry around – and you are covered by insurance in case of accidents.
Going on a cruise or 2 during your Bali holiday is a great way to spend a day having fun without it being too much effort. The beauty of a cruise is that it also caters to those who are feeling more energetic with lots of fun activities. Even if these are optional, meaning you have to pay extra, it is certainly worth considering them, especially if you really want to do something exciting.