Best Place To Get A Tattoo in Bali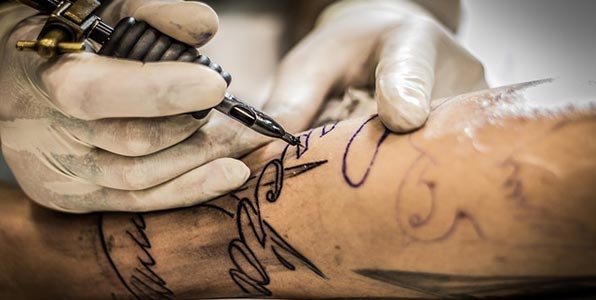 Bali is an extremely popular tourist destination, especially for Australian and Asian travellers. Boasting an impressive selection of Bali villas, resorts, and budget accommodation options, the island really has something for everyone.
A lot of people visit places like Bali for things like dental work, botox or to get tattoos. In fact, getting a tattoo in Bali costs a fraction of the price of getting one in a country like Australia. Although there have been concerns about hygiene and quality in the past, the Bali tattoo industry is actually very well run, especially if you visit a reputable establishment. Here are some of the best places to get a tattoo in Bali:
Two Guns Tattoo
Owned by Australians, recognised by the Professional Tattoo Association of Australia, and using all of the latest industry best practices, Two Guns Tattoos is one of the best places to get inked in Bali. The team of experienced artists all use imported inks and other equipment, which means that you can rest easy with the knowledge that you're getting a high quality tattoo that will last.
Although Two Guns Tattoo isn't the cheapest in Bali – with a minimum price of around $90 USD (depending on the exchange rate at the time), they are certainly up there with the best. In the end, you should always go for quality over price when it comes to tattoos.
Bali Family Tattoo Studio
The Bali Family Tattoo Studio is one of the most reputable and oldest tattoo studios in Bali. Opened in 1973, the Studio has been catering to a wide range of visitors for over 45 years. They specialise in tribal and traditional Balinese design, but the artists have the skills to create pretty much any tattoo you can imagine.
Artful Ink
Artful Ink is one of the most famous tattoo studios in all of Bali. They are part of a large international chain, boasting studios in Australia and Greece as well. Artful Ink follows all industry best practices, and is constantly updating their methods and equipment to make sure that they remain the best of the best. Most tattoos here will cost you around $80 USD per hour, so there is the potential for you to get a high-quality, bargain priced tat – especially if you already have a design.
Mex Tattoos
Specialising in Japanese and Yakuza style tattoos, Mex offers some of the best value for money in Bali. With in-house designers and experienced tattoo artists, you will definitely come away from Mex with a piece that you're happy with. It is cheap, but it retains the high quality standards that Western visitors are often looking for. This makes Mex a very popular studio, and its reputation speaks for itself.
Conclusion
If you're planning on visiting Bali, and have considered getting a new tattoo while you're there, then you need to choose your tattoo parlour carefully. Using poor quality artists can lead to both disease and poor quality tattoos, but the good thing is that there are plenty of options to choose from. Before you go, make sure that you do your research and choose a studio that fits your needs.