Tanah Lot Temple Sees Record Number of Visitors in 2012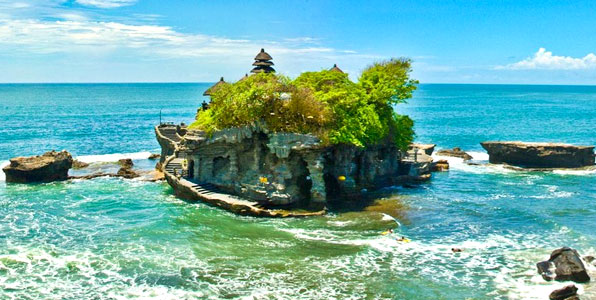 The iconic Tanah Lot Temple is a must see for anyone spending their vacation in Bali, and according to the tourist stats for 2012 more and more people are discovering this. A whopping 2.5 million people made it to the Tanah Lot Temple last year.
Tanah Lot Temple can be found on the coast of Beraban in the Kediri sub-district. It is 30 km west side of Denpasar town and about 11 km in south side Tabanan town. The temple is built on a three-acre rock and can be reached by walking for just a few minutes. Enjoy the strategically placed Balinese shops along the walk to the temple.
The Tanah Lot Temple has become one of the favorite destinations for vacationers in Bali. According to mythology along some of the coral reef nooks resides a holy snake that protects the temple from evil. It offers a magnificent view with spectacular sunsets that reach into the soul of the earth. The panoramic beauty will surely take your breath away. Stop and enjoy a bite to eat at one of the restaurants along the cliffs – you certainly won't be disappointed.
Tanah Lot welcomed in the New Year with dancers, entertainment – celebrations occur throughout the year on special occasions.
Tanah Lot is about 45 minutes by car north-west of Legian, Seminyak, and Kuta. From Ubud it can reached in about 40 minutes by car. Book a luxurious and spacious villa in a Bali location such as Ubud, Kuta, or Legion, which all make excellent jump off points to explore all of what Bali has to offer. A villa offers you the optimum in accommodations – all the amenities, private swimming pool, lush gardens, outstanding furnishings that mix modern and tradition.
Come to Bali and explore all it has to offer – come make memories.