Bali Mandara Toll Road is Now Open to the Public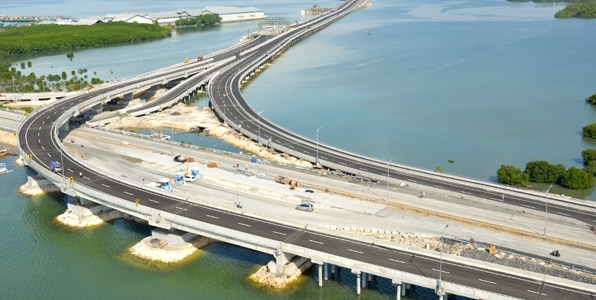 The opening of the Mandara Toll road to the public was met with great excitement. This toll road is going to make a difference of about 20 minutes from the Ngurah Rai airport to Benoa turning a 30-minute ride into a 10-minute drive. That's exciting. The Bali Mandara toll road connect Nusa Dua with Ngurah Rai Benoa, Bali
It seems with the opening came some glitches and travellers were quickly reporting that there were significant traffic jams after the exit gates. These glitches are sure to be worked out over time as the excitement of the new route returns to normal and traffic patterns stabilize. Once the toll charges begin it's likely locals will opt for the old way of commuting and that will take a great deal of pressure off the new Mandara toll road.
If you have not seen pictures of this toll, you should take the time to have a look. It is really quite an amazing achievement and visitors are not only going to save time, they are going to get a spectacular view as they travel this highway.
According to a recent news report, local officials are excited because their goal was to have the toll road open for the APEC Summit, which happens in October, and they did indeed meet their goal. According to government officials this toll road was built to help reduce traffic jams, support tourism infrastructure and to help make it easier to transport goods.
The Mandara toll road is around 12.7 kilometres and it cost the Bali government approx 2.5 billion Rupiah to build. Construction only started 14 months ago, and that's impressive compared to what many of us have experienced in our own communities.

Tourists are slowing down to take in the delightful scenery of both the ocean and mangrove trees. Cameras are certainly clicking. There is no stopping on the toll road allowed because of the danger it creates. One thing's for sure – the Mandara toll road is definitely worth paying the toll if you are visiting Bali, just so you can experience the view.